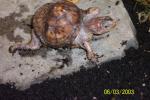 Scooter when she came in
Date: 04/25/2006
Views: 6520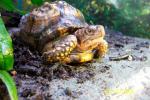 Scooter March 2006
Date: 04/25/2006
Views: 4211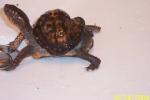 Scooter 16 months later
Date: 04/25/2006
Views: 5459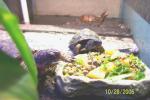 Scooter & Skeeter
Scooter and Skeeter enjoying their favorite meal and Huey in the background.
Date: 10/28/2006
Views: 4462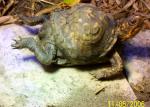 Scooter basking in all her glory
Here's Scooter's typical basking pose. No inhibitions at all and loves her hot basking spot that goes up around 100°F and doesn't spend a whole lot of time in the cooler part of the enclosure that reaches around 70°F.
Date: 11/06/2006
Views: 4742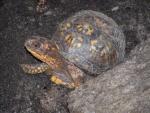 Scooter
Scooter October 2007
Date: 10/30/2007
Views: 3935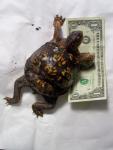 Scooter
Scooter with dollar bill to show size.
Date: 11/21/2007
Views: 4038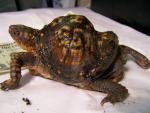 Scooter - Nine years old.
Because of the shell deformity she's much smaller than she should be.
Date: 11/21/2007
Views: 3986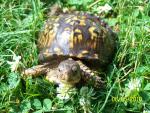 Scooter 12 years old
Date: 06/10/2010
Views: 2914